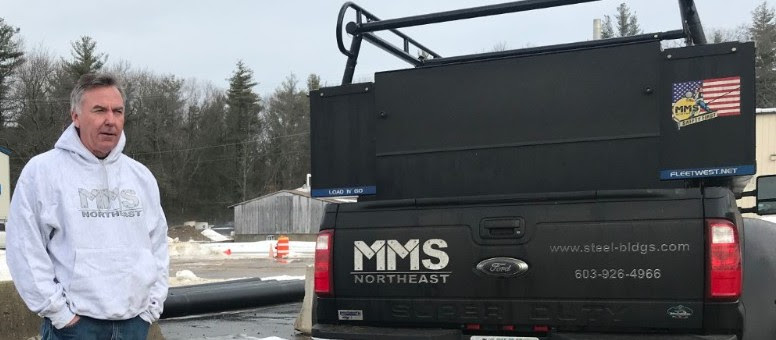 CHIEF Buildings is proud to announce that MMS Northeast, Inc. has attained the IAS AC478 Accreditation for Metal Building Assemblers. Steve Moore, founder and lead foreman for the company, and an active member in the MBCEA has been involved with the program from the beginning, so it is no wonder that his company would be one of the first to gain accreditation in 2017. His company may be small when looking at the number of employees, but the sheer number of buildings they complete in a year's time is staggering. When other Builders question how they could ever find the time to go through the program for the accreditation, MMS Northeast is proof that it can be done. The process to accreditation is thorough and will require a proactive effort, but it starts with making a decision. Steve would tell those other Builders that they simply have to decide to work hard enough to get it.
---
| | |
| --- | --- |
| "Having MMS Northeast assessed on our project management, training programs and erection practices by two, third-party entities appealed to me as a way to validate what we have been doing for years." Steve Moore | |
---
MMS Northeast has specialized in metal buildings since the mid 90's and has been an Independent Authorized Builder for CHIEF Buildings since 2009. In that time they have consistently been a high volume Builder, but they have never let that high volume compromise quality. And don't assume high volume means simple. MMS Northeast seeks out and has proven time and again how competent they are with the complicated work.
---
"Having the ability to guarantee to our clients that MMS Northeast has a safe, trained and quality minded workforce certainly has increased our access to high profile projects. Our employees also recognize that as an AC478 firm we have a responsibility to continue to meet the high standards of accredited companies." Steve Moore
---
Although the IAS AC478 accreditation is relatively new, the ramifications of its widespread acceptance in the marketplace will be game changing. As the specifications for new projects begin to require the AC478 accreditation, the ability for a firm to comply will be simple. You'll either have it or your team will be left on the sidelines.
---
| | |
| --- | --- |
| | "MMS Northeast is a company involved in many public and governmental projects. It just makes sense to recognize and separate our abilities from companies that don't have the same practices." Steve Moore |
---
The IAS AC472 Accreditation for Manufacturers of Metal Buildings is a sign of Quality and Best-in-Class policies and procedures. Contractors that align themselves with accredited manufacturers benefit from the manufacturer's reputation, expertise and quality products. Put-in-place quality is a function of those products and the contractors value-added services. AC478 now exists as proof of the erector's reputation and just one more way for the contractor to stand out in the crowd. It's not just you saying how good you are, it's verifiable proof.
---
"The direct connection between AC472 for manufacturers and AC478 for assemblers makes perfect sense to us and our company goals. Good buildings and good assemblers = happy, satisfied customers and more return clients for the manufacturers and the erectors." Steve Moore
---
For a metal building erector, the benefits of gaining the accreditation are apparent. But don't take our word for it. Steve would love to talk to anyone interested in knowing more about the program or how MMS Northeast was able to work through the process. As an additional source, Jackie Meiluta with the Metal Building Contractors and Erectors Association is also available to field your questions.